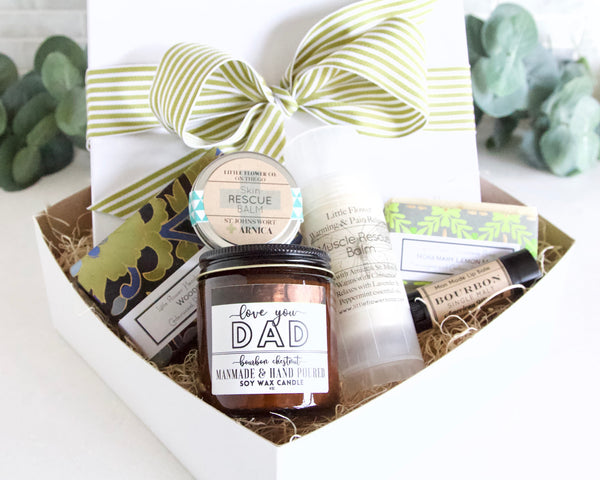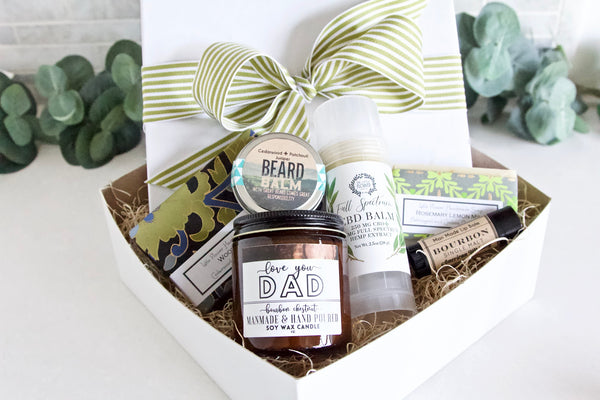 Father's Day unique Gift for Dads who have everything
If you need a classy gift for him - Your Husband, your son, your Dad and Grandpa .... Look no further than this classic clean mens self care gift box.
This Man Made Gift box is the perfect gift for boyfriend, husband or Papa, with "Love You Dad" candle label (or choose standard candle label)
SET INCLUDES:
1 - Bourbon Chestnut Candle w/your choice of Label Text 4oz

1 - Large Woodsman Handmade Bar Soap 6oz

1 - 3.5oz Rosemary Lemon Mint Soap

1 - Muscle Rescue Balm all natural icy hot twist up tube 2.5oz

1 - Bourbon Lip Balm

1 - 1oz Tin - choose from Skin Rescue Balm, Muscle Rescue Balm, or Beard Balm

8 x 8 White gift box with striped ribbon

1 - Gift Card with your custom handwritten message inside (optional)
The products described on this website are not intended to diagnose, treat or prevent any disease or to affect any structure or function of the skin or body. The information on this website is not medical advice and is not a substitute for consulting with a healthcare provider.