Custom Soap Favors
Unique & useful gifts that guests can begin to enjoy right away
(They Smell So Good!) 
Some have been known to "accidentally" take a neighbors favor so its good to have a few extra. 
Available in 14 essential oils scents & wrapped in luxury art papers of your choice to match your decor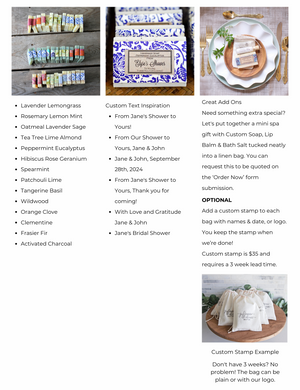 More Information
Click any "Order Now" button to fill out our form where you can select your soaps, papers and text.
When you submit you'll get a quote via email within 24 hours.
If you approve the quote we will send an invoice that can be paid online.
We like to ship 3 weeks before your event to ensure all paper bands are snug and soaps are smelling strong
Shipping for up to 100 favors is rarely more than $18.00 to anywhere in the US
If for any reason you are not 100% happy with your favors return them for a full refund of course!
Volume Pricing
10 bars $3.25 ea.
25 bars $3.00 ea.
50 bars $2.75 ea.
75 bars $2.50 ea.
100+ bars $2.35 ea.
200+ bars $2.25 ea. and free shipping
Favor Soaps measure 3 x 2 x 0.5" and weigh 1.75oz.
By request for 50 cents more per bar, we offer full sized soaps which measure 3 x 2 x 1" and weigh 3.5 oz.