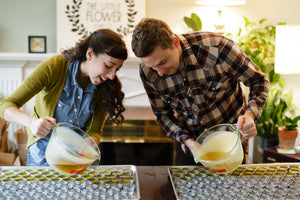 The Little Flower Soap Co. is a Michigan based small batch, body care company established in 2010 by husband/wife team Holly & Justin Rutt. Our mission is to design products that become must have, can't live without favourites. Perfecting completely natural, healing recipes that smell amazing, really work and are packaged cutely.
Holly is founder and lead designer of two businesses, The Little Flower Soap Co & Sweat Pea Floral Design, a wedding and event floral design company. Holly brings a love of great design, a passion for creating small masterpieces by hand a desire to offer a refreshing, unique and memorable customer experience.
Justin is a doctor of osteopathic medicine finishing his residency in June with a passion for herbs, vitamins, nutrition and natural health care. He develops recipes using a process similar to kinesiology.
Little Flower Soaps are cold processed in small batches using heirloom techniques, perfected and polished with time. We use only the best essential oils, botanicals, and minerals including organic rosemary leaf, organic lavender flowers, organic Shea & cocoa butter and many more. Holly and Justin work joyfully from their small, Michigan studio.