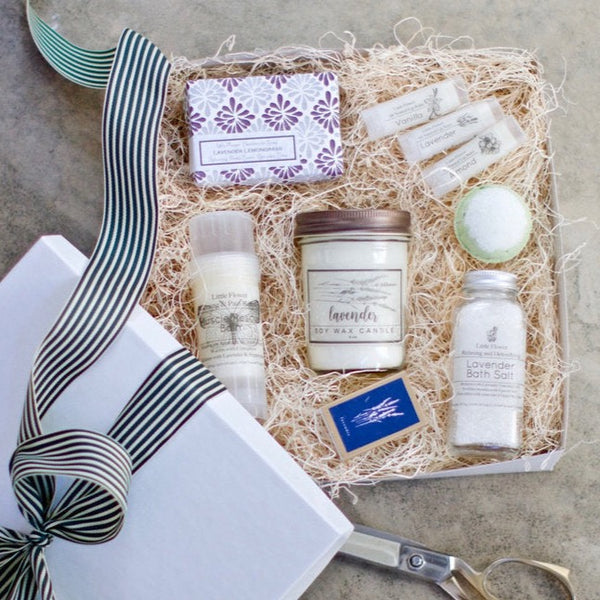 Luxury Spa Gift Set - Self Care Gift
Indulge & Comfort Gift for her!! This premium Spa Gift Set features our top selling Soap, Bath Bomb, Candle, Bath Salt, Lip Balm, and Healing Salve.

Makes a truly generous relaxation & self care gift for the ladies in your life who deserve to take a night off and be comforted & spoiled

This Gift will have her surrounded by luxurious soaps, bath salts, candles, bath bombs, luscious lip balms, and our much loved muscle rescue balm because we all know someone who deserves to be spoiled

SET INCLUDES:
1 - 6oz. Soap of your choice (Lavender is most popular)
1 - 4oz Bath Salt Lavender
1 - Muscle Rescue Balm Twist up Tube
1 - 8oz Candle of your choice (again lavender is our most popular)
1 - Matchbook with botanical print
1 - Bath bomb
3 - Lip Balms (one for nightstand, purse, and desk or car)
1 - 10 x 10 gift box
1 - premium striped grograin ribbon
This is the perfect gift for mom wife, daughter, sister, friend, coworker, teacher anyone savvy enough to appreciate super natural products packed with the highest quality ingredients.
The products described on this website are not intended to diagnose, treat or prevent any disease or to affect any structure or function of the skin or body. The information on this website is not medical advice and is not a substitute for consulting with a healthcare provider.