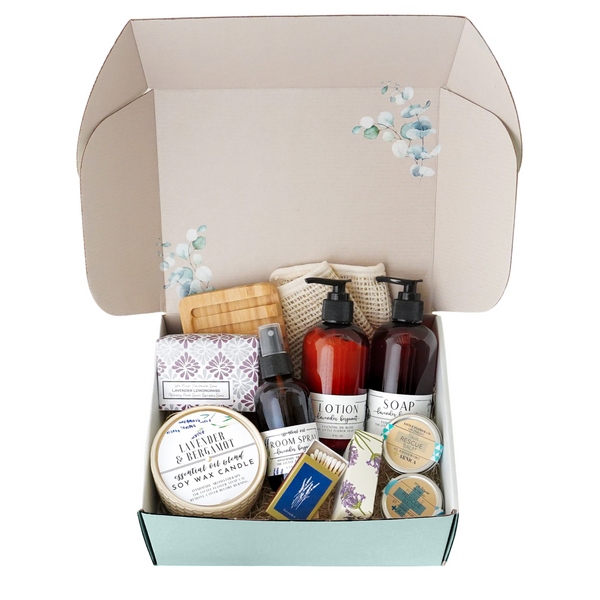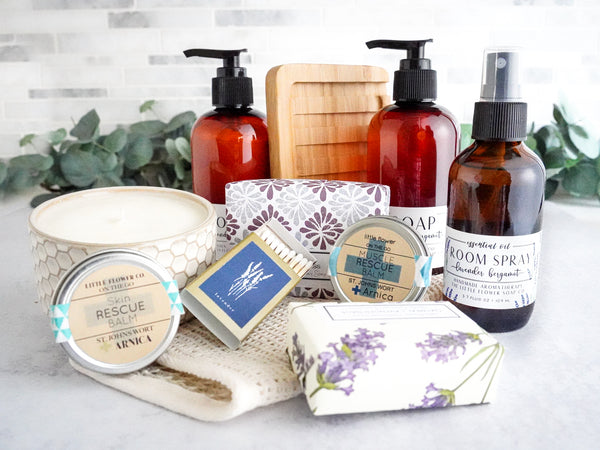 Art of Living Luxurious Spa Gift Box
A collection of our nicest, best, and most popular relaxing spa gifts in one big basket.
This luxurious gift basket for her is sure to impress, with its array of spa-day must haves, including luxurious soaps, candles, and moisturizing lotions, all packaged in a stylish box. Experience the joy of giving, and show how much you care with this thoughtful gesture.
GIFT SET INCLUDES:
1 - 6oz Large Bar of Lavender Lemongrass Soap

1 - 8oz Ceramic Candle Lavender Bergamot

1 - Botanical Decorative Matchbox for lighting the candle

1 - 8oz Lavender Bergamot Liquid Soap

1 - 8oz Lavender Bergamot Lotion

1 - Lavender Bergamot Room Spray

1 - Muscle Rescue Balm Tin

1 - Skin Rescue Balm Tin

1 - 3.5oz Oatmeal Lavender Sage bar soap

1 - Natural Exfoliating Washcloth

1 - Waterfall Bamboo Soap Dish 3.5 x 5"

1 - Gift box printed with botanical eucalyptus accents 9.5 x 7.75 x 4

1 - Optional Gift tag message
The products described on this website are not intended to diagnose, treat or prevent any disease or to affect any structure or function of the skin or body. The information on this website is not medical advice and is not a substitute for consulting with a healthcare provider.