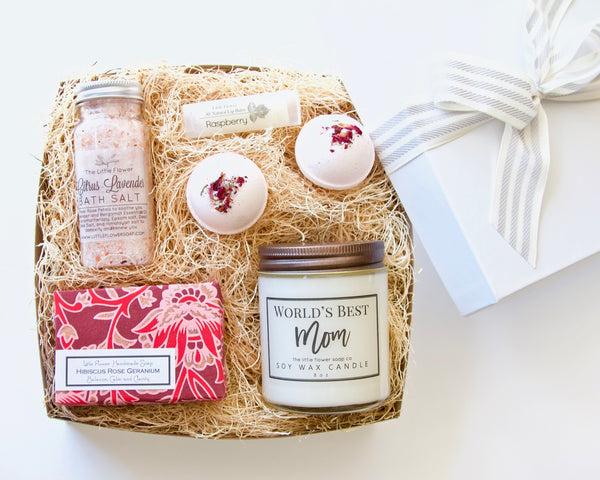 Luxury Self Care Gift for Worlds Best Mom- Handmade Aromatherapy Lavender Spa Gift Basket for Women
A great way to show Her that she is loved & deserves to relax and take care of herself. This gift comes wrapped with a ribbon and can ship directly to your recipient we never include a receipt since you get one in email.
Perfect in person or Mail order gift for girlfriend, sister, best friend, wife or Mom!
Home spa day kit. Draw a hot bath, light the candle pop in the bombs and or bath salt and feel your stress melt away as you soak. Use the large 6oz bar of our most popular soap, Lavender Lemongrass, to wash away your cares.
SET INCLUDES:
1 - 6oz BIG soap of your choice

1 - Lip Balm of your choice

1 - 4oz Bath Salt of your choice

2 - Bath Bombs 2oz

1 - 8oz Lavender Candle with your Choice of Message

1 - White gift box with Grey and Ivory Organic Cotton striped Ribbon

1 - small card/gift tag with your custom message handwritten inside
"Worlds Best Mom" - "Worlds Best Grandma" - "Worlds Best Aunt" - "Worlds Best Sister" - "Love you Mom" "Hello Beautiful" "Happy Birthday" "Best Friends Forever" "P.S. I Love You"
The products described on this website are not intended to diagnose, treat or prevent any disease or to affect any structure or function of the skin or body. The information on this website is not medical advice and is not a substitute for consulting with a healthcare provider.