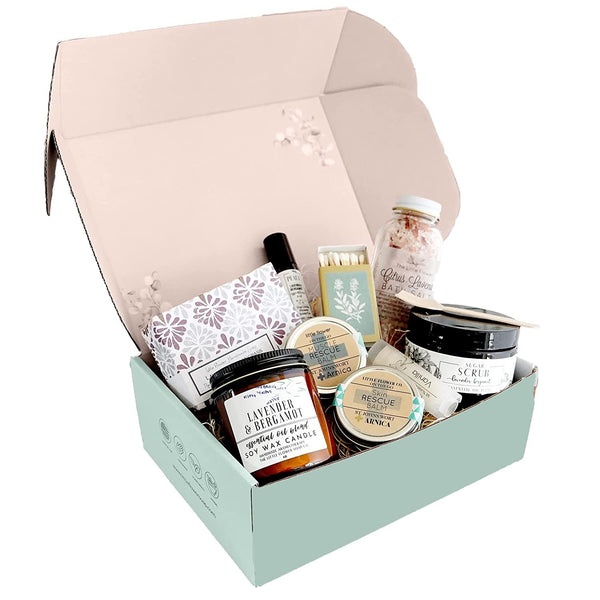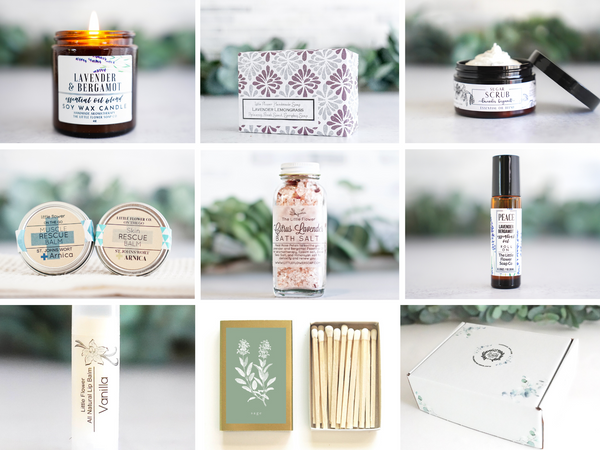 Joyful Retreat - 10 Piece Spa Day Box
A spa retreat in a box - 10 piece gift basket for Birthday or any occasion!
We're on a mission to make it easy to Pamper your loved ones - give the gift of Relaxation to your Best Friend or send some Self Care to your sister. All of the lovely ladies in your life will swoon for these handmade, natural beautifully packaged bath, body treats.
GIFT SET INCLUDES:
1 - 6oz Large Bar of Lavender Lemongrass Soap

1 - 4oz Lavender Bergamot Soy Wax Candle

1 - Botanical Decorative Matchbox for lighting the candle

1 - Vanilla Lip Balm

1 - 4oz Lavender Citrus Bath Salt with rose petals

1 - PEACE (Lavender Bergamot) Aromatherapy Essential oil Roll-on perfume

1 - Muscle Rescue Balm Tin

1 - Skin Rescue Balm Tin

1 - 4oz Lavender Bergamot Sugar Scrub Jar

1 - Small wooden spoon for scooping the sugar scrub

1 - 8 x 6 x 3 gift box printed with botanical eucalyptus accents

1 - Optional Gift tag message
You can include your custom gift note message during checkout and we will carefully handwrite your note on a card and include it in the box for no additional charge.
The products described on this website are not intended to diagnose, treat or prevent any disease or to affect any structure or function of the skin or body. The information on this website is not medical advice and is not a substitute for consulting with a healthcare provider.