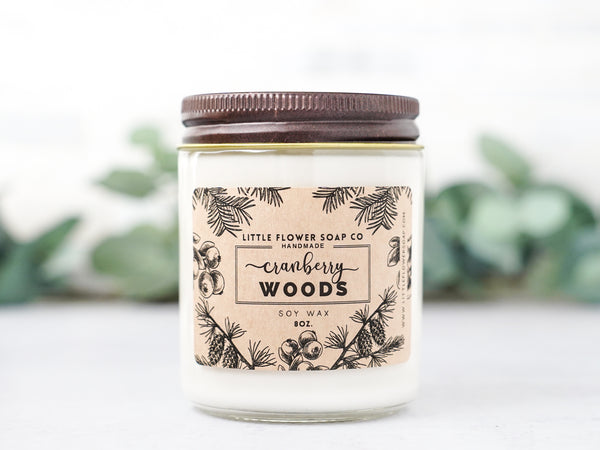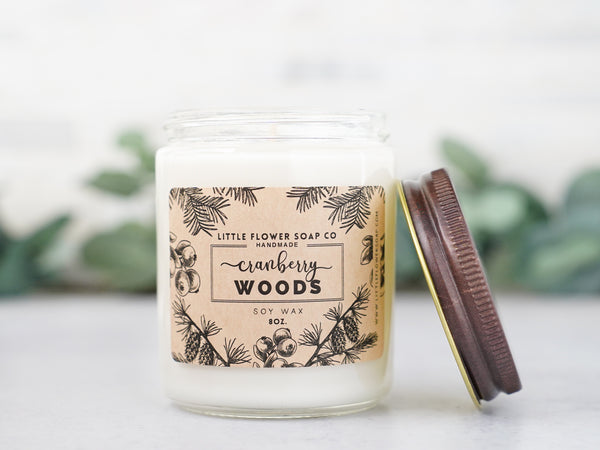 Cranberry Woods - 8oz Soy Wax Candle
Cranberry Woods Candle combines the tartness of cranberries and sweetness of ripe berries with pleasing herbaceous accords.  A charming holiday scent thats a bit more nuanced than more common Christmas candles. 

8oz - Soy Wax candles in a simple jar with copper top. The 8oz. Jar measures 3.5 inches High 2.87" diameter and has a burn time of 30-40 hours.
WHY SOY WAX?
When you use soy there is no petrol-carbon soot like you get from petroleum-based paraffin candles. Soy wax candles are longer lasting because soy wax burns cooler which means that you can enjoy your soy wax candle for generally 30-50% longer than a paraffin candle. Using soy supports American farmers (instead of foreign oil conglomerates) it's also biodegradable and water soluble.
We prefer nature inspired scents only and work hard to create candles that replicate the natural fragrance that they are named for.
The products described on this website are not intended to diagnose, treat or prevent any disease or to affect any structure or function of the skin or body. The information on this website is not medical advice and is not a substitute for consulting with a healthcare provider.