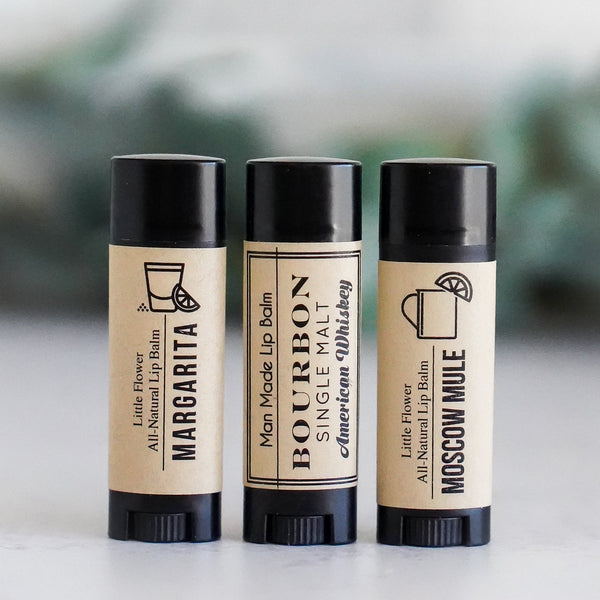 Cocktail Lip Balm Set of 3 - Bourbon - Mule -Margarita
This set of 3 Man Made, Natural Chapsticks makes a great Father's Day Gift, Gift for New Dad, Gift for Husband, or Father's Day gift from Daughter.
Set includes:
1 - Bourbon Lip Balm

1 - Moscow Mule Lip Balm

1 - Margarita Lip Balm
Picture this: It's guys night out , you' re comparing notes while tasting a flight of whiskeys or lounging in the company of fellow cigar enthusiasts when you start to feel chapped..... what do you do? you can't reach for a tacky drug store chapstick that will taint your tasting. Now you can whiskey your whistle with our Bourbon Lip Balm perfectly packaged to blend into the hippest of surroundings.
Not only is this lip balm fun and funky its also intensely moisturizing and contains zinc a natural sunblock.

Develop a new bad habit and make every hour happy hour
Keep your friends close and your bourbon closer
"Write drunk edit sober" Ernest Hemmingway

Black & Kraft chapstick measures 2.62" and contains .15 ounces (lasts 3-6 months if used daily).
Super Natural Little Flower Lip Balms made from the greatest ingredients to nourish, protect, and heal your lips. All of our lip balms glide on like satin and stay put. These are made without sweetener to help you avoid the temptation to lick your lips (which is drying).
All our lip balms are made with Beeswax, Coconut Oil, Shea Butter, Jojoba Oil, Aloe Butter, Olive Oil, Almond Oil, Hemp Seed Oil, Vitamin E, Zinc Oxide (a natural sunblock), and Flavor Oil. Our Peppermint & Lavender Lip balms also contain Grape Seed Oil and are scented with Essential Oil (no flavor oil).
The products described on this website are not intended to diagnose, treat or prevent any disease or to affect any structure or function of the skin or body. The information on this website is not medical advice and is not a substitute for consulting with a healthcare provider.