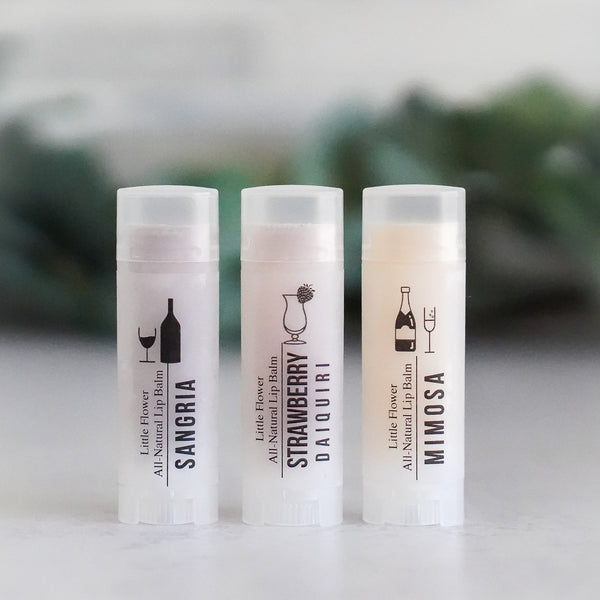 Happy Hour Cocktail Lip Balms - Set of 3
Well Hello There - Does Mama need a cocktail? We've got you covered. A Funny Gift for Mom this Mother's Day!
Now you don't even need a flask to stash the good stuff in your handbag in fact you can have your daiquiri right on your desk (just watch that no one pilfers it)

Pick from the following flavors:
Bourbon - black tube w/kraft label

Moscow Mule - black tube w/kraft label

Margarita - black tube w/kraft label

Pina Colada

Strawberry Daiquiri

Mimosa

Sangria (lightly tinted)

Mint Julep (or mint ju-lip!)

Margarita - clear tube

Moscow Mule - clear tube
Super Natural Little Flower Lip Balms made from the greatest ingredients to nourish, protect, and heal your lips. All of our lip balms glide on like satin and stay put. These are made without sweetener to help you avoid the temptation to lick your lips (which is drying).
All our lip balms are made with Beeswax, Coconut Oil, Shea Butter, Jojoba Oil, Aloe Butter, Olive Oil, Almond Oil, Hemp Seed Oil, Vitamin E, Zinc Oxide (a natural sunblock), and Flavor Oil. Our Peppermint & Lavender Lip balms also contain Grape Seed Oil and are scented with Essential Oil (no flavor oil).
The products described on this website are not intended to diagnose, treat or prevent any disease or to affect any structure or function of the skin or body. The information on this website is not medical advice and is not a substitute for consulting with a healthcare provider.
Makes a fun gift!
These are effective, tasty, and unique.