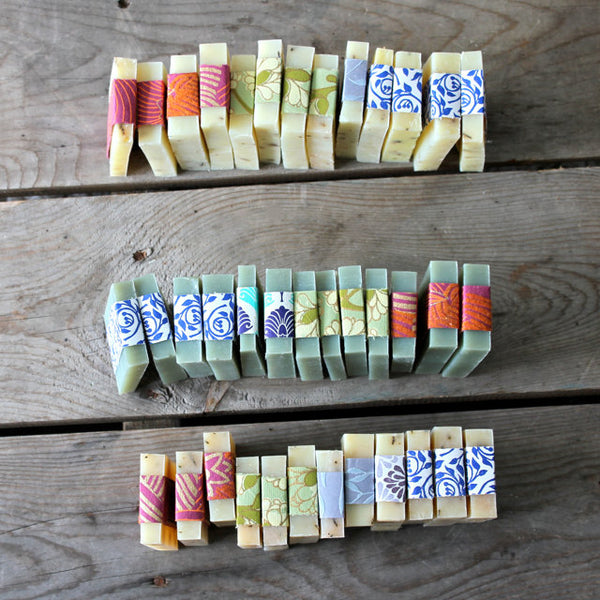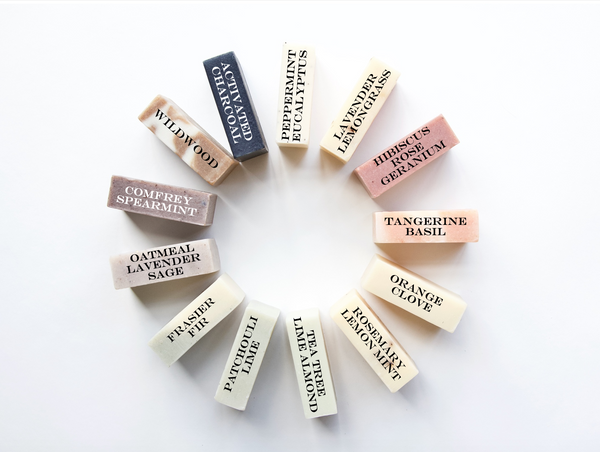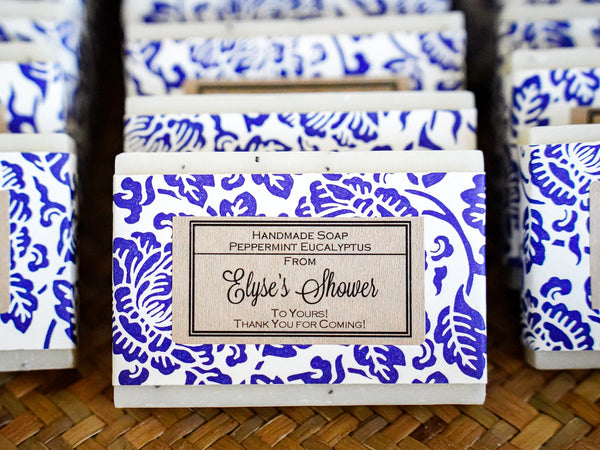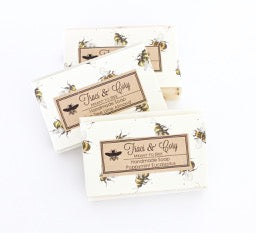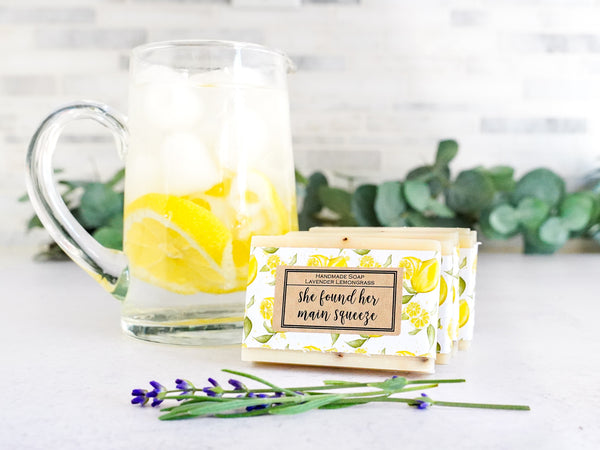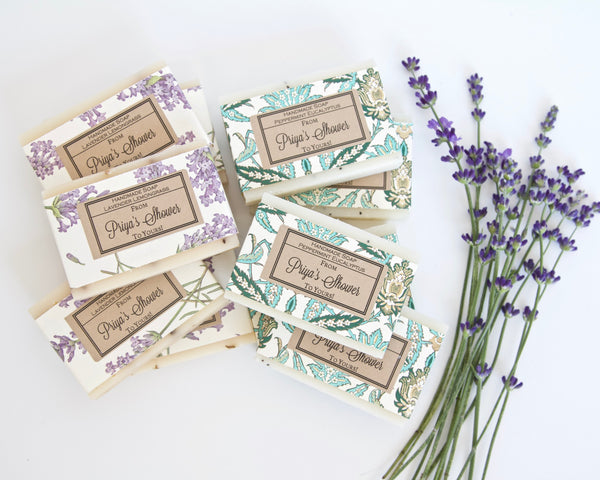 Delight your guests with these custom handmade soap favors. You choose the soap scents, paper wrap colors and custom text such as "From Mary's Shower to Yours!".  These useful beautiful shower favors have never gotten less than a 5 star review.
This listing is for favor size soaps only, for other available options and details, click HERE: https://www.littleflowersoap.com/favors
Let's work together to create the perfect custom favors for your beautiful bridal shower!
Favor Soaps measure 3 x 2 x 0.5" and weigh 1.75oz.
You will select your soap(s), paper wrap, and custom label details after you 'Add to Cart'
Custom Label Inspiration:
From Jane's Shower to Yours!

From Our Shower to Yours, Jane & John
Jane & John, June 8th, 2024
From Jane's Shower to Yours, Thank you for coming!
With Love and Gratitude Jane & John
Jane's Bridal Shower
Available Soap Scents:
Lavender Lemongrass (our most popular)

Rosemary Lemon Mint
Oatmeal Lavender Sage
Tea Tree Lime Almond
Peppermint Eucalyptus
Hibiscus Rose Geranium
Spearmint
Tangerine Basil
Patchouli Lime
Orange Clove
Clementine
Wildwood
Activated Charcoal
The products described on this website are not intended to diagnose, treat or prevent any disease or to affect any structure or function of the skin or body. The information on this website is not medical advice and is not a substitute for consulting with a healthcare provider.
The custom favor soaps that I ordered for my daughter's wedding shower were absolutely perfect! They smelled wonderful and packaged so nicely and arrived right on time! Highly recommend!
We ordered soap favors from Little Flower Soap Co. We were able to customize the scent and packaging to reflect us as a couple. Our guests loved them! We had people asking us, after, if we had any leftover that they could have. If you're looking for a table favor that guests will want I highly recommend them!Photo Credit: Erin Schmidt Photography
I was looking for bridal shower favors and came across your website and I'm so glad I did. You were so easy to work with, quick to respond with a quote as I wanted the larger soap for the favor and after a few emails back and forth, I placed my order. I was concerned as the bridal shower was only 3 weeks away but you put the order in and it was shipped within a couple days and I had it in plenty of time before the bridal shower. I couldn't wait to open the package and was extremely pleased with the favors. They smelled amazing and were the perfect size. The wrapper around the soap was a high quality and the saying was perfect, just what I ordered. The price was right and everything about my experience with your company was great! Thank you again for making the bridal shower extra special with the details of your product. I am extremely satisfied and would recommend doing business with your company. I will certainly be ordering from your company again!
Just received my soap favors for my sister's bridal shower and all I can say is WOW!! The Little Flower Soap Co has exceeded my expectation. Colleen was a pleasure to deal with through the whole process. The turn around time was super quick and the packaging was perfect. The soaps look lovely and smell even better. I can't wait to give them out next month. Five stars all around!! :)
SO Incredibly HAPPY with this company!! I am throwing a bridal shower for my little sister and needed some Favors for all of the guests! I got a Full Size Soap and a Lip Balm BOTH customized with a personal message from the Bride on them AND it comes in a Beautiful little bag already packaged! Also,I was able to mix and match scents of the soaps AND a mix of flavors of lip balm of my choosing! I would re-order from The Little Flower Soap Co in a heartbeat! Not only were they friendly, but their customer service was on point! I received my CUSTOM order within DAYS! From beginning to end I felt so good about this company and their employees! It was my pleasure to support small bisnesses during this difficult time, especially this one!!! Thank you so much Little Flower Soap Co!! I will be ordering again!! :)