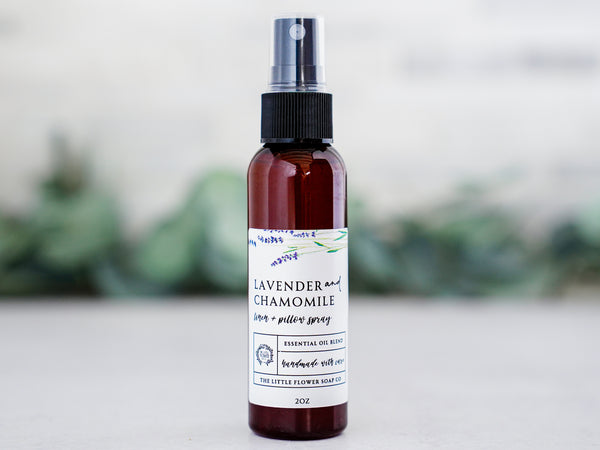 Lavender Chamomile Pillow Mist - Essential Oil Linen Spray
A great smelling essential oil blend to help you drift peacefully to sleep.  handmade with calming lavender and chamomile essential oils, this pillow spray will help you to fall asleep faster and wake feeling refreshed.  It helps reduce anxiety about falling asleep too!
Hey there, sleepyheads and fellow dream enthusiasts! 🌙 Ready to dive into the world of slumber with this Lavender Camomile Pillow Mist? You may be wondering...
Will this stuff really make me sleep like a baby?
Essential oils are believed to help with sleep through their aromatic compounds and potential interactions with the limbic system in the brain. Inhaling essential oil aromas may impact this system, promoting relaxation and calmness.
Several essential oils, such as lavender and chamomile, have been studied for their potential calming and sedative effects. For example, a study published in the Journal of Alternative and Complementary Medicine in 2015 (Koulivand, P. H., Khaleghi Ghadiri, M., & Gorji, A. (2013)) found that inhaling lavender essential oil may reduce anxiety and improve sleep quality.
Another study published in the journal Evidence-Based Complementary and Alternative Medicine in 2017 (Lillehei, A. S., Halcon, L. L., Savik, K., Reis, R., & Zunker, C. (2015)) explored the effects of inhaled chamomile essential oil on sleep quality and found a positive impact on improving sleep.
So, grab a bottle, spritz your pillows, and let the sweet dreams roll. You'll be catching Z's like a champ in no time. Nighty-night, y'all! 💤✨
The products described on this website are not intended to diagnose, treat or prevent any disease or to affect any structure or function of the skin or body. The information on this website is not medical advice and is not a substitute for consulting with a healthcare provider.