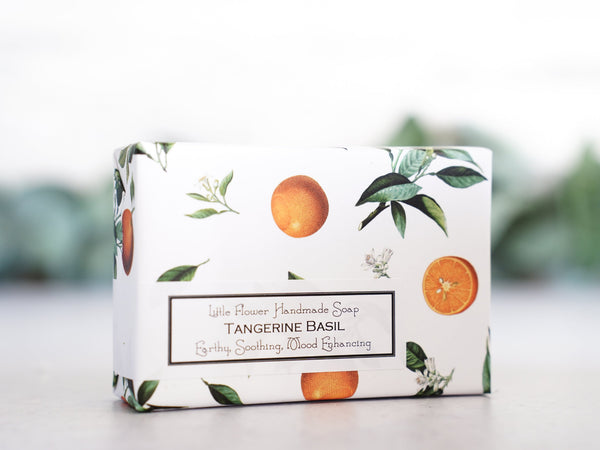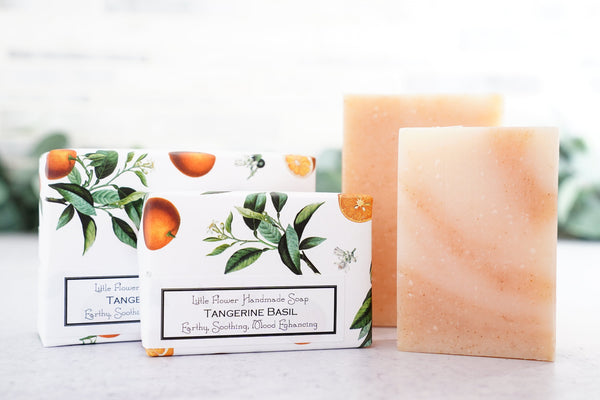 Tangerine Basil - Large Bar Soap 6oz
Tangerine Basil bar Smells SO earthy and comforting you will think you've died and gone to soap heaven! I love to use this soap next to my kitchen sink and have even been known to "accidently" loose a bar under the seats in my car because I love the smell so much!!
2 SIZES AVAILABLE:
6oz BIG Bar Measures 3.625" H x 2.5" L x 1.2" D

3.5 oz Bar Measures: 2" H x 3" L x 1" D
🍊 Naturally scented with essential oils: Tangerine, Grapefruit, and Basil
🍊 Naturally colored with Paprika!
🍊 The tangy sweet Tangerine essential oil is extracted (by cold press) from the peel.
🍊 The fabulously thick lather protects while shaving (face, legs... whatever you shave)
🍊 Perfect Gender Neutral Scent is loved by Men and Women alike
🍊 Handmade in Michigan using an Heirloom cold process soap recipe
🍊 Made with Coconut and Olive oil in the base so its super Moisturizing!
🍊 Did you know that handmade soaps retain their glycerin making it gentler on skin and a good choice for people with dry or sensitive skin.
Tangerine Essential Oil: Like most of the citrus family tangerine can be is refreshing and rejuvenating. The aroma clears the mind and can help to eliminate emotional confusion. Aromatherapists also consider it to be very comforting, soothing and warming.
Comforting Basil Essential Oil from India is used in Ayurvedic medicine to strengthen compassion, faith and bring clarity.
Pink Grapefruit Essential Oil: bright scent and natural antimicrobial properties
Paprika: A Fun pop of color 
Close your eyes, inhale deeply then lather, rinse, repeat. A perfect reminder of the warmth and brightness of summer.
The products described on this website are not intended to diagnose, treat or prevent any disease or to affect any structure or function of the skin or body. The information on this website is not medical advice and is not a substitute for consulting with a healthcare provider.