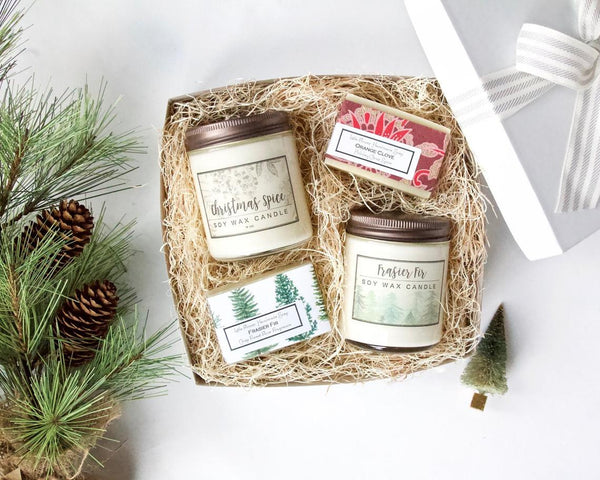 Winter Candle and Soap Gift Box
This gift box is the perfect winter candle and soap set. Set includes Noble Fir, and Christmas Spice candles along with seasonal soaps - Orange Cove and Frasier Fir.
The perfect gift for anyone on your shopping list! Send directly to your recipient we never include a receipt and it comes gift wrapped!!
SET INCLUDES:
8oz Noble Fir Candle

8oz Christmas Spice Candle

3.5oz Frasier Fir handmade soap

3.5oz Orange Clove handmade soap

1 white gift box with Grey and Ivory Organic Cotton striped Ribbon

1 small card/gift tag with your custom message handwritten inside
Specifications:
Box Measures 8 x 8 x 3

8oz Candles - 3.5 inches High 2.87" diameter and has a Burn time 30 hours

Soap 3.5oz Bar Measures 3 x 2 x 1"
The products described on this website are not intended to diagnose, treat or prevent any disease or to affect any structure or function of the skin or body. The information on this website is not medical advice and is not a substitute for consulting with a healthcare provider.