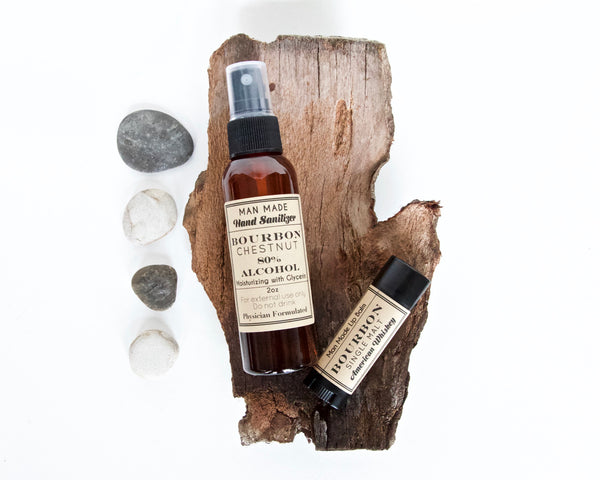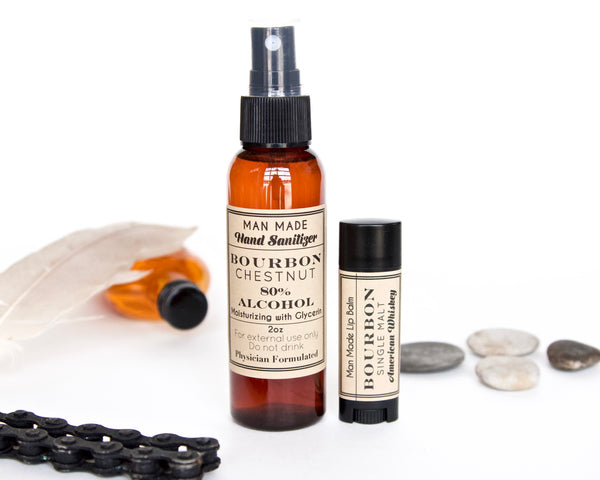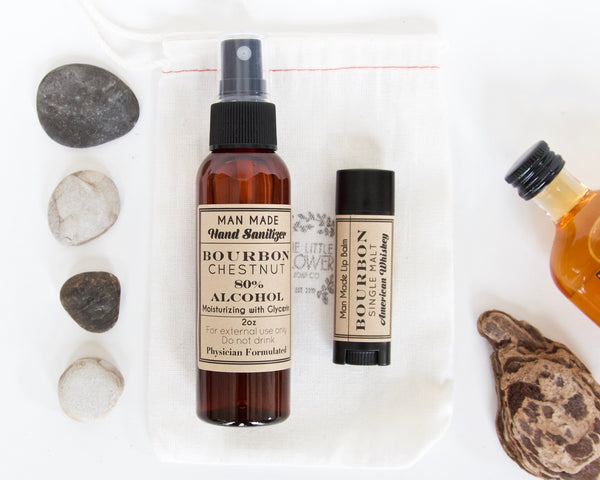 Bourbon Gift Set - 2oz Hand Sanitizer and Bourbon Lip Balm
Drawstring bag with a Bourbon Hand Sanitizer and a Bourbon Lip Balm inside.
We know its challenging to find the right gift for the man who has everything ... but I bet He doesn't have this!! A great smelling Hand Sanitizer thats 80% alcohol formulated according to WHO and CDC guidelines paired with this fun Bourbon Lip Balm.
Picture this: It's guys night out, you' re comparing notes while tasting a flight of whiskeys or lounging in the company of fellow cigar enthusiasts when you start to feel chapped..... what do you do? You can't reach for a tacky drug store chapstick that will taint your tasting. Now you can whiskey your whistle with our Bourbon Lip Balm perfectly packaged to blend into the hippest of surroundings.
The Sanitizer is made with Glycerine which leaves hands feeling soft not dry
Lip balm fun and funky its also intensely moisturizing and contains zinc a natural sunblock.
Develop a new bad habit and make every hour happy hour!
Keep your friends close and your bourbon closer
"Write drunk edit sober" Ernest Hemmingway
Alcohol based hand sanitizer spray 2oz bottle. Recipe is based on on USP (United States Pharmacopeia) guidelines and is composed of Ethyl Alcohol, Peroxide, Glycerine and Distilled water resulting in a final concentration of 80% ethanol to which we added essential oils only for scent.
Protect yourself and your loved ones with these useful great smelling hand sanitizers that will not dry your hands. You may find yourself using this sanitizer frequently because it simply smells great and feels refreshing. The glycerine helps moisturize your skin while the ethyl alcohol get the job done.
Starting ingredient of ethanol 96% for final product concentration of ethanol 80%
The products described on this website are not intended to diagnose, treat or prevent any disease or to affect any structure or function of the skin or body. The information on this website is not medical advice and is not a substitute for consulting with a healthcare provider.