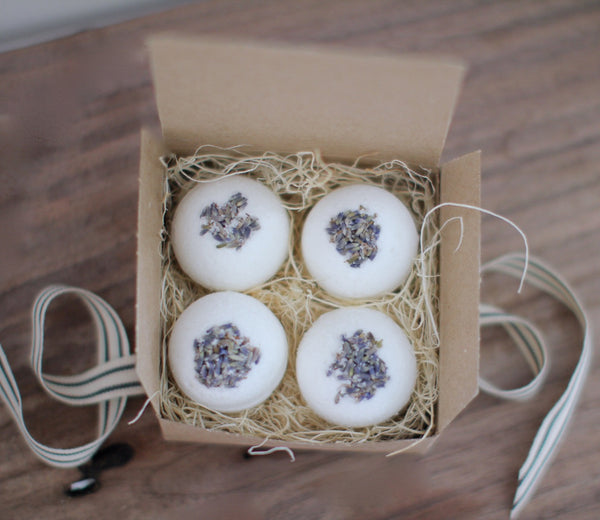 Coffee Bath Bomb Gift Set of 4
Set of 4 Bath Bombs
Choose your scent - example 4 coffee bombs, 4 lavender bombs, 4 rose bombs…
Available Boxes include:
Set of 4 Coffee Bombs topped with coffee beans

Set of 4 Lavender Bombs topped with Lavender flowers

Set of 4 Rose Bombs topped with Rose Petals

Set of 4 Lemongrass bombs topped with Calendula Petals

Set of 4 Pink Grapefruit Bombs topped with Hibiscus Petals

Set of 4 Eucalyptus Bombs

Set of 4 Vanilla Bombs topped with rainbow sprinkles (for birthdays)
Each Bomb weighs 1.5 ounces and measures 2" diameter.
Handmade with tons of epsom salt so they are mighty detoxifying. These come neatly boxed with a black and white stripe cotton ribbon and a gift tag with your message on it.
Epsom salt has a high mineral content of magnesium and sulfur which draw toxins from the body, sedates the nervous system and is used for exfoliation and skin softening.
If you are sending directly to your recipient be sure to include your gift tag message and use the recipients address as the "ship to" address.
The products described on this website are not intended to diagnose, treat or prevent any disease or to affect any structure or function of the skin or body. The information on this website is not medical advice and is not a substitute for consulting with a healthcare provider.