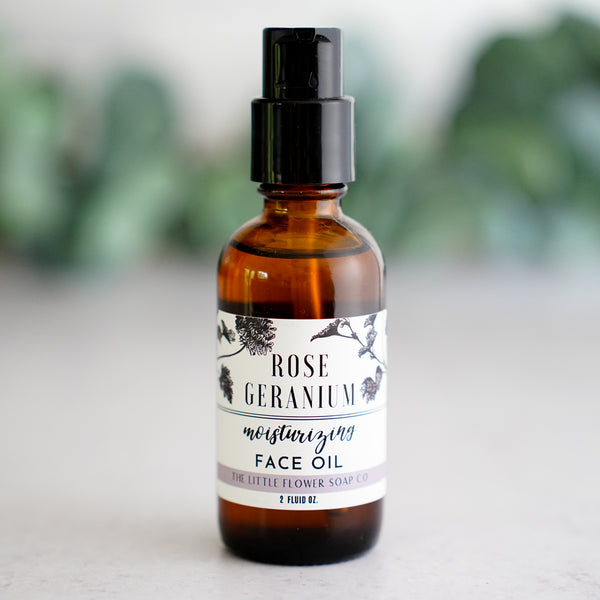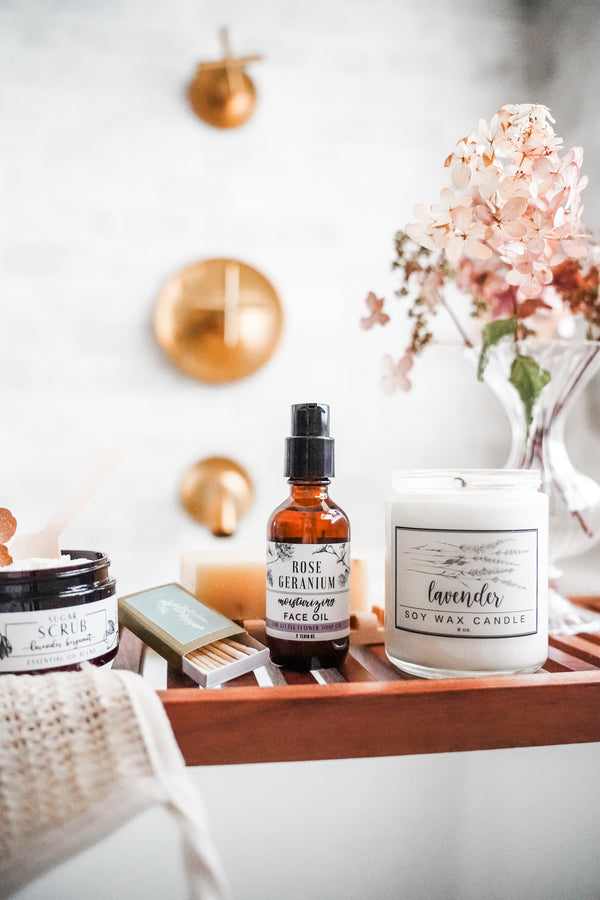 Face Serum - Rose Geranium facial oil for all skin types
A lovely serum for sensative skin! This face oil serum will hydrate and help restore a youthful glow. Dab or pat oil onto the face after showering or washing. Face Serums help protect against environmental stressors our skin faces from the outside world and reduce water loss by creating a barrier between our skin and the dry or impure air around us.

Luxury Face oil that will have you feeling soft as a baby's bottom. An all natural face serum with jojoba oil. Super moisturizing and hydrating skin treatment for even skin tone.

2oz Amber glass bottle with pump

Directions: Dispense 1-3 pumps and massage into face as needed to maintain youthful glow & softness.

Lovely moisturizing face oil, full of the greatest ingredients like: Jojoba Oil, Apricot Kernel Oil, Sea Buckthorn Seed Oil, Helichrysum Oil, Borage Oil, Vitamin E Oil, Roman Chamomile Essential Oil (EO), Lavender EO, Tea Tree EO, and Rose Geranium EO
A 2oz glass bottle with treatment pump - Rustic elegant amber glass is recyclable or reusable

Apricot oil helps to improve skin tone, maintain softness and radiance of the skin. It also nourishes the skin and lowers the appearance of face wrinkles, fine lines and blemishes

Sea buckthorn oil's balanced profile of fatty acids provide smoothing and occlusive properties and alleviate temporary redness and discomfort. Omega-7 and omega-6 rejuvenate and strengthen the skin, while omega-3 and omega-9 help hydrate — the perfect combination for rough, dry, and flaky complexions.

Helichrysum essential oil acts as an antioxidant that protects the skin's collagen and elastinIt has tissue remodeling effects to fade blemishes

A sweet light fragrance Vitamin E, Chamomile Essential oil, Lavender, Tea Tree, Borage and Rose Geranium oils
The products described on this website are not intended to diagnose, treat or prevent any disease or to affect any structure or function of the skin or body. The information on this website is not medical advice and is not a substitute for consulting with a healthcare provider.